Strolling through Ulysses
James Joyce & Ulysses comes to Sligo!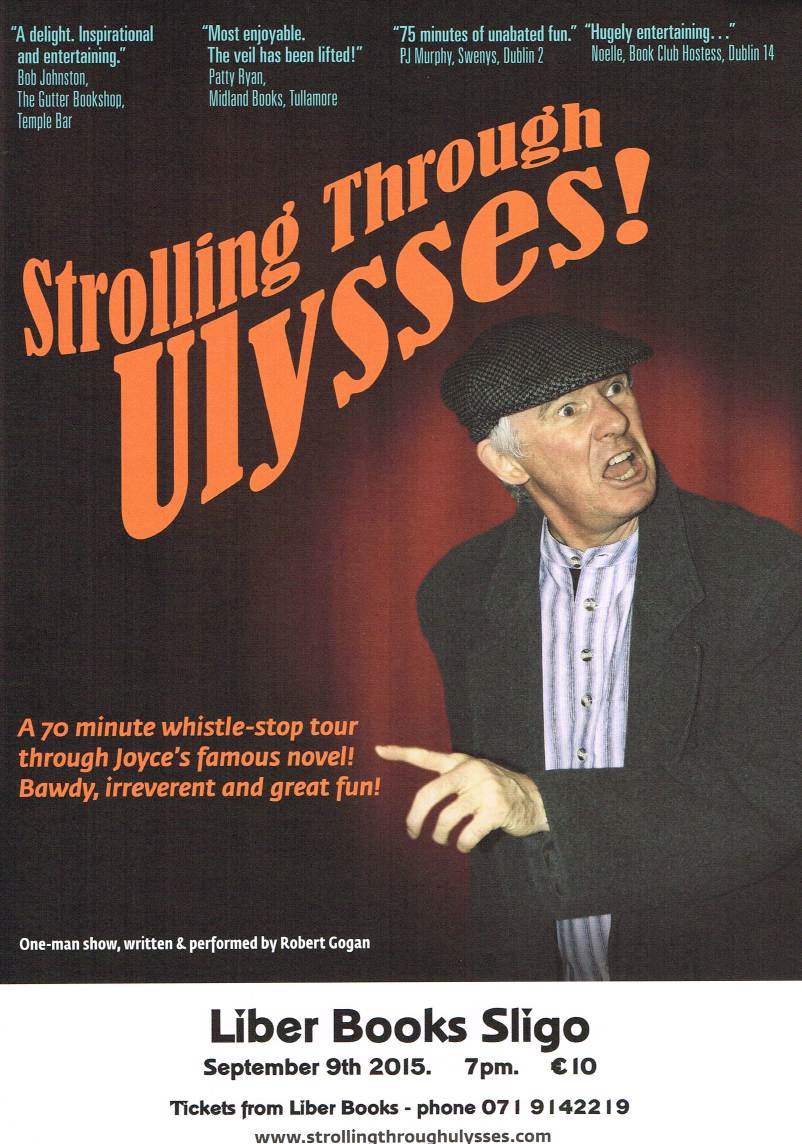 When Robert Gogan completed his one-man show about James Joyce's Ulysses entitled Strolling Through Ulysses! he decided that there was no better way to perform it than on a nationwide tour of the independent bookshops of Ireland.
The tour started in December 2014 with two special performances in the famous Swenys Chemist on Lincoln Place in Dublin, one of the many places immortalised by Leopold Bloom on Bloomsday – June 16th 1904 – and the tour has continued in a host of bookshops throughout Ireland. He was delighted to perform in the iconic Joyce's Tower, Sandycove on February 2nd last (the anniversary of Joyce's birthday, and also of the publication of Ulysses) to a packed chamber.
He will be performing his show in Liber, Sligo, on Wednesday 9th September next at 7.00pm.
Strolling Through Ulysses! is a 70 minute lighthearted whistle-stop tour through Joyce's famous novel, highlighting the fun, action and characters of the book.
The show is humorous, entertaining and informative and scattered with extracts from Ulysses which best illustrate the various aspects of Joyce's writing – the comical, the descriptive and the complex.
"It's a non-academic, amusing crash course on Ulysses" says Gogan, "and it is aimed at those people who have never read it, or have read it and want to be refreshed. It's a little bit bawdy, certainly irreverent, but also great fun! I have a life-long interest in Joyce's work, particularly Ulysses and I'm really enjoying this nationwide bookshop tour. Bookshops themselves are very intimate settings and the bookshelves, full of books, provide an excellent stage backdrop. The reaction from audiences to date has been amazing and very positive"
"Bookshops", Gogan continues "are an endangered species in this digital age and it's important that we don't lose them from our communities. By performing Strolling Through Ulysses! in bookshops I hope to reinforce the importance of books and bookshops and highlight their relevance in the community. I'm really looking forward to performing Strolling Through Ulysses! in  Liber !"
Gogan has also edited a new edition of Ulysses in which he has added some punctuation and formatting to help people to read the novel and derive the maximum satisfaction from it. Ulysses Remastered was published in 2012 and is available through all bookshops, including Liber Books.
Strolling Through Ulysses! is on in Liber on Wednesday 9th September at 7pm. Tickets are €10 each. Tickets are available from Liber  – phone 071 9142219.
It is not suitable for children or young teenagers.