Join us for the official launch of 'The Six: The Lives and Memorialisation of Sligo's Noble Six' on Tuesday 20th September at 6pm, 100 years to the day that the Noble Six were killed.

The book will be officially launched by eminent historian and poet Dr Michael Farry, who has published extensively on the revolutionary period in County Sligo, along with authors Dr James Bonsall, Dr Marion Dowd, and Robert Mulraney. All are welcome!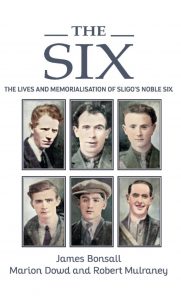 It is September, 1922. As the National Army closes in on the anti-Treaty stronghold of Rahelly House in North Sligo, 120 Republicans of the 3rd Western Division abandon their headquarters and retreat to the mountains. En route to a cave hideout in the uplands, six of the men are surrounded and captured. They would not survive one of the most brutal advances of the new Free State Army. Their deaths caused outrage and bewilderment across the county and essentially marked the end of the Civil War in Sligo. These men came to be memorialised as Sligo's Noble Six.
This book looks beyone the well-documented accounts of the execution of Sligo's Noble Six and explores the interwoven stories of their lives, their communities, their families, and their descendants. The men's lives are illustrated through military archives, IRA dispatches, contemporary media coverage, and previously unpublished photos. Their memorialisation through poetry and prose, monuments and gatherings, has ensured that these six men live beyond the tragedy of their deaths.