An evening with Michael Harding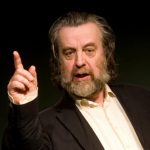 Michael Harding will be appearing at the Hawk's well theatre  Wednesday 9 October at 8pm. We have a pair of free tickets available to one lucky customer. All you have to do is place your name and contact details on a Liber till receipt and drop it in the box at our counter. This is an evening not to be missed!
Michael Harding, the Irish Times Columnist, playwright and novelist, has written a memoir that has gone to the top of the bestsellers list.
Staring at Lakes is a beautifully written book in which he talks with openness and honesty about his journey through life, leaving the priesthood, falling in love, being overwhelmed by depression and ultimately how he found a way out of the dark by accepting the fragility of love and the importance of now. He tells his remarkable story with great wit and has enthralled and entertained audiences with his unique take on life in Ireland.
An evening with Michael Harding will be among the best you'll spend.